Keeping your vehicle operating in the safest manner possible is our biggest priority. Often times when considering how to maintain the highest degree of safety, tires are forgotten. But when your tires are worn or malfunctioning, especially during the winter weather season, you are jeopardizing your Nissan vehicle's
performance
,
fuel efficiency
and
safety
.
At D-Patrick Nissan in Evansville, Indiana, we have a wide variety of tires fit for your Nissan vehicle.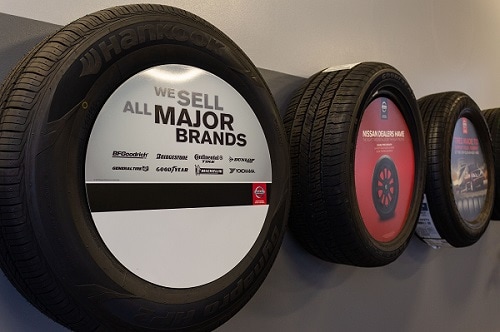 Tires We Offer
Performance tires - Designed for performance usually with some sacrifice in ride comfort due to their low profile, sporty design.
All-season tires - Designed for performance in all seasons and in rain. These are a popular option for many customers for all around performance.
Winter tires - Designed for maximum performance in the snow and winter and are a popular choice for our customers when facing a harsh Indiana winter! 
Tire Services We Offer
In addition to our wide range of tires to choose from, the D-Patrick Nissan Tire Department in the
Nissan Service Center
also offers
tire rotation
services along with
wheel alignment
. This ensures that your tires are wearing at the same rate, which is important in extending the life of your tires, as well as ensuring optimum performance. D-Patrick Nissan boasts a wide-range of tires in these common categories:
Patch & Repair
Tread & Pressure Check
Balancing
Rotation
Two & Four Wheel Alignment
And more!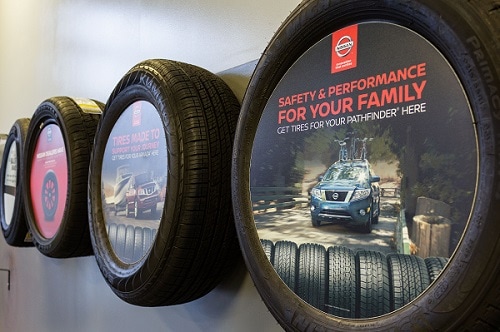 Tires By Model
Nissan 370Z

Nissan Altima

Nissan Armada

Nissan Frontier

Nissan GT-R

Nissan Kicks

Nissan Leaf

Nissan Maxima

Nissan Murano

Nissan Pathfinder

Nissan Rogue

Nissan Sentra

Nissan Titan

Nissan Versa
D-Patrick Nissan Tire Store Hours
Monday

8:00 AM - 12:00 PM

Tuesday

8:00am-5:00pm

Wednesday

8:00am-5:00pm

Thursday

8:00am-5:00pm

Friday

8:00am-5:00pm

Saturday

8:00am-5:00pm

Sunday

Closed